Help Menu - SPEDAS GUI
From SPEDAS Wiki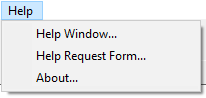 The Help menu contains links to documentation, to the Help Request Form, and also some information about the application, such as the release date.
Help Window

Clicking on the Help menu and selecting "Help Window..." will open a dialog box that will provide you with the URL for the online User's Guide document. Pressing the "Open SPEDAS Wiki" button opens a web page for the wiki. Pressing the "Open Online Documentation" button opens a web page with the pdf help file.
Help Request Form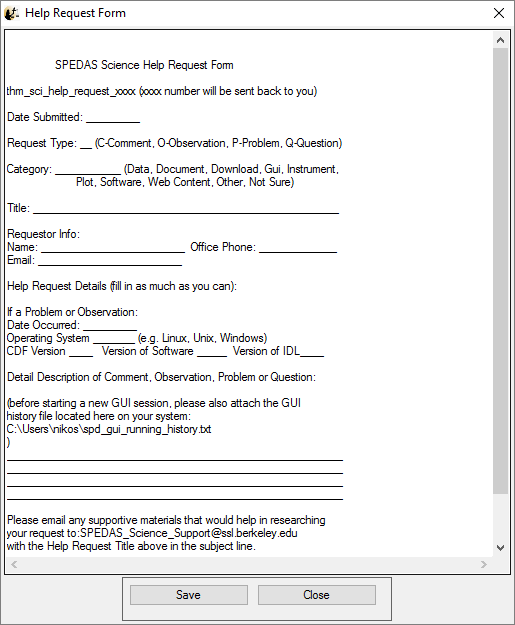 When this button is clicked, a text window pops up displaying the THEMIS Science Help Request Form. This allows the user to input information about the error which has occurred. There is a save button, which saves the help request form in a file. In addition to the request form, a history file will be saved containing history window and journaling messages. Both files should be emailed to SPEDAS_Science_Support@ssl.berkeley.edu. Click the Close button to dismiss this widget.
About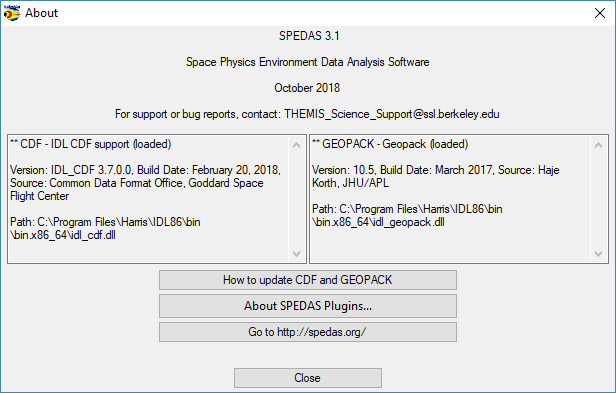 This button opens an "About" window that contains information about the SPEDAS software application.