THEMIS
From SPEDAS Wiki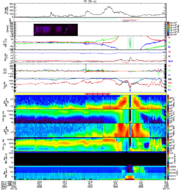 SPEDAS includes command-line utilities and GUI plugins for loading, processing, and analyzing THEMIS/ARTEMIS data.
Instruments
Spacecraft Instruments
Ground Based Instruments
Data Products & Availability
Data Availability
Summary plots and an interactive data availability tool can be found on the main THEMIS website:
L1 Data Products
L2 Data Products
Derived Products
Some data products such as moments and spectrograms can be produced in real time from uncalibrated data.
Loading Data
There are several methods for for downloading THEMIS/ARTEMIS data.
Tutorials and Presentations
For older presentations, see the following directory:
External Links